California Proposition 65 Warning
WARNING
: This product may contain materials and/or chemicals such as arsenic, lead, and others that are known by the state of California to cause cancer and/or reproductive problems.
Payment & Security
Payment methods
Your payment information is processed securely. We do not store credit card details nor have access to your credit card information.
---
Security

Description
Ultrasonic Portable Hardness Tester Non-Destructive!/Portable Rockwell Hardness Tester/Ultrasonic Portable Hardness Tester
Model No. PHT-6000 Series
Features
Latest portable hardness tester technology. Utilizes both ultrasonic and dynamic type portable hardness testers in one unit. Can test non-destructive and handle small or thin work parts down to 2mm of thickness, as well as testing large parts. Extremely versatile, with many options and configurations to handle all types of hardness tester applications.


w/Manual Probe
w/Motorized Probe
w/LEEB Impact Device
w/Extended Manual Probe
Features:
Non-Destructive hand held hardness tester
Combines UCI and Leeb hardness testing in one state of the art device
Test steel with min thickness of .08" and unlimited max thickness
Blazing fast test results
Rockwell, Brinell Vickers conversions shown on display
Large Memory w/USB Output
Choice of manual UCI probes; 1kg, 2kg, 5kg & 10kg
Optional Motorized Probes: .30kg, .80kg, & 1kgf
Available Impact Devices(Leeb) D, DC, D+15, G & DL
"Ultrasonic Contact Impedance" is based on a 136 degree diamond at the end of a vibrating rod being depressed into the test surface at a fixed load. The difference in Ultrasonic vibration frequency is then calculated into a hardness value. The UCI hardness test procedure is slower than the Dynamic Impact style, however the "UCI" method of hardness testing is portable, easy and accurate. It also has its own advantages when utilized for certain hardness testing applications. UCI hardness testers are not restricted to large mass items like dynamic type testers. These hardness testers can test metals as thin as 2mm and at a hardness value as low as 20HRC (75HB). They also excel at performing hardness tests on larger, harder metals as well. Another reason for the rise in popularity is due to the fact that the UCI method is categorized as "Non-Destructive". That translates into less scrap parts/ lower mfg costs due to necessary inspections.
"Dynamic Impact" is based on the Leeb principle of hardness developed by Dietmar Leeb in the 1970's. A spring loaded impact body is thrust to the test surface, effecting rebound. The speed of both the initial thrust and the rebound is measured in a non-contact mode. This is calculated as a Leeb hardness value and then automatically converted to Rockwell C, B, Brinell, Vickers and Shore hardness Values. It has effectually brought easy, fast and accurate results to portable hardness testing.
UCI
| Scales-UCI | Measurement Range | Tolerance |
| --- | --- | --- |
| Rockwell C | 20-70 HRC | +/- 1.5 HRC |
| Rockwell B | 41-99 HRB | +/-1.5 HRB |
| Rockwell A | 61-85 HRB | +/-1.5 HRA |
| Brinell | 76-618 HB | +/- 3% HB |
| Vickers | 80-1599 HV | +/- 3% HV |
Can also test in the following scales(UCI only) HRN15 – HRN30 – HRN45 – HRT15 – HRT30 – HRT45 HRF – HK – HD.
LEEB
| Scales-Leeb | Measurement Range | Tolerance |
| --- | --- | --- |
| Rockwell C | 25-67 HRC | +/- 1.5 HRC |
| Rockwell B | 59-99 HRB | +/-1.5 HRB |
| Brinell | 85-651 HB | +/- 10 HB |
| Vickers | 83-976 HV | +/- 12 HV |
| Shore | 26-99HS | +/-10HS |
| Leeb | 170-960HLD | +/- 6HL |
UCI hardness tester w/manual probe
| Model No. | Description | Application Notes |
| --- | --- | --- |
| PHT-6001 | UCI Portable Hardness Tester w/1kgf Probe | For surfaces with Ra below 125μin |
| PHT-6002 | UCI Portable Hardness Tester w/2kgf Probe | For surfaces with Ra below 200μin |
| PHT-6005 | UCI Portable Hardness Tester w/5kgf Probe | For surfaces with Ra below 400μin |
| PHT-6010 | UCI Portable Hardness Tester w/10kgf Probe | For surfaces with Ra below 600μin |
| PHT-6011 | UCI Portable Hardness Tester w/LONG 1kgf Probe | For Deep Groove surfaces with Ra below 125μin |
UCI hardness tester w/motorized probe
| Model No. | Description | Application Notes |
| --- | --- | --- |
| PHT-6030 | UCI Hardness Tester w/.30kgf Probe | Best for checking coating layer hardness; Finished thin parts |
| PHT-6080 | UCI Hardness Tester w/.80kgf Probe | Best for smooth bearing type surfaces |
| PHT-6100 | UCI Hardness Tester w/1kgf Probe | Best for machined surfaces |
Specifications:
| Hardness Range | HRC: 20.3- 70; HRB: 61-85.6 ; HV: 80-1599; HB: 76-618 |
| --- | --- |
| Scale Selection | Rockwell C (HRC); Rockwell B (HRB); Rockwell A (HRA); Brinell (HB); Vickers (HV); Leeb (HLD) and many more! |
| Tolerance | +/- 3.0% deviation of average from the reference value of the test block with a minimum of 5 tests |
| Display type | LCD Color Screen w/Backlight, adjustable brightness |
| Language Selection | English, German, Chinese, Spanish, etc. |
| Data Logger | Letters, Numerals |
| Data Memory | 2000 groups of measured data ; 20 groups of calibration data |
| Statistical Software | Supplied-can be saved in Word or Excel |
| Data Output | USB – cable supplied |
| Power Supply | Rechargeable Lithium Battery: Voltage-4.2V, 4800mAh |
| Auto Power Off | 5 minutes |
| Recharging Time | Approx. 8 hours |
| Battery Usage | Approx. 6 hours (no backlight) |
| Net Weight(base unit) | 2lbs (w/probe) |
| Gross Weight | 12 lbs |
| Unit Dimensions | 7.0 x 3.1 x 1.1" (160x80x30mm) |
| Gross Dimensions | 13.7 x 17.7 x 5.9" (350x450x150mm) |
Manual UCI Probe Specifications:
Probe Type/Model
PHT-6001
PHT-6002
PHT-6005
PHT-6010
PHT-6011
Loading Force
1kgf (10N)
2kg (20N)
5kg (50N)
10kg (98N)
1kgf (10N)
Probe Diameter
22mm
22mm
22mm
22mm
22mm
Length
154mm
154mm
154mm
154mm
213mm
Oscillating Rod Diameter
2.4mm
2.4mm
3mm
3mm
2.4mm
Surface Roughness Requirements
μm=Metric μin= Inch
Ra<3.2μm
(Ra<125 μin)
Ra<5μm
(Ra<197 μin)
Ra<10 μm
(Ra<393 μin)
Ra<15 μm
(Ra<590 μin)
Ra<3.2µm
(Ra<125 µin)
Min weight of test sample
0.3kg (.66lbs)
0.3kg (.66lbs)
0.3kg (.66lbs)
0.3kg (.66lbs)
0.3kg (.66lbs)
Minimum thickness of sample
2mm (.08")
2mm (.08")
2mm (.08")
2mm (.08")
2mm (.08")
Motorized UCI Probe Specifications:
Probe Type/Model
PHT-6030
PHT-6080
PHT-6100
Loading Force
.30kg (3N)
.80kg (8N)
1kgf (10N)
Probe Diameter
46mm
46mm
46mm
Length
198mm
198mm
198mm
Oscillating Rod Diameter
3.7mm
3.7mm
3.7mm
Surface Roughness
Ra<3.2μm
Ra<5 μm
Ra<8 μm
Requirements
μm=Metric μin= Inch
(Ra<125 μin)
(Ra<197 μin)
(Ra<314 μin)
Min weight of test sample
0.3kg (.66lbs)
0.3kg (.66lbs)
0.3kg (.66lbs)
Minimum thickness of sample
2mm (.08")
2mm (.08")
2mm (.08")
Indentation Depth (μm)
| Hardness | .30kg Motorized | .80kg Motorized | 1kg Motorized | 1kg Manual | 2kg Manual | 5kg Manual | 10kg Manual |
| --- | --- | --- | --- | --- | --- | --- | --- |
| 800HV | 4 | 5 | 7 | 7 | 10 | 15 | 22 |
| 600HV | 4 | 5 | 8 | 8 | 11 | 18 | 25 |
| 500HV | 5 | 6 | 9 | 9 | 12 | 19 | 27 |
| 300HV | 6 | 8 | 11 | 11 | 16 | 25 | 35 |
| 100HV | 10 | 13 | 19 | 19 | 27 | 43 | 61 |
OPTIONAL ACCESSORIES:
Special Application Impact Devices
Impact Device D

 

: Part No. PHT1800-100
Universal standard device:
Use for the majority of hardness testing assignments
Impact Device DL

 

: Part No. PHT1800-115
Tip 4mm diameter x 1.96" length Measurements in extremely confined spaces
Impact Device G

 

: Part No. PHT1800-125
Enlarged test tip:
For use on solid heavy components such as; rough castings and forgings. Brinell only.
Impact Device DC

 

: Part No. PHT1800-120
Extremely short impact device
Used for very confined spaces such as holes, cylinders, internal measurements
Impact Device D+15

 

: Part No. PHT1800-110
Slim front section with coil set back
Hardness measurements in grooves, recessed surface
Impact Device C

 

: Part No. PHT1800-130
Reduced impact energy
For testing case hardened material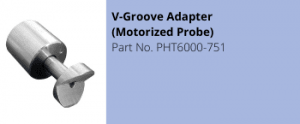 Optional Hardness Test Blocks for 6000 Series
NIST Certified Hardness Test Block Kit
Part No. 900330-9410
Includes: 1pc HRC 20's
1pc HRC 40's
1pc HRC 60's
Full form cert for each block
Aluminum/Brass Rockwell Blocks
| Part No. | Description | Shape | Range | Comments |
| --- | --- | --- | --- | --- |
| 900330-9414AH | Rockwell B | Square | 80's | Made in USA Aluminum |
| 900330-9414AL | Rockwell B | Square | 50's | Made in USA Aluminum |
| 900330-9418H | Rockwell E | Square | 90's | Made in USA Aluminum |
| 900330-9418L | Rockwell E | Square | 60's | Made in USA Aluminum |
| 900330-9414BH | Rockwell B | Square | 80's | Made in USA Brass |
| 900330-9414BL | Rockwell B | Square | 50's | Made in USA Brass |
Leeb Hardness Test Blocks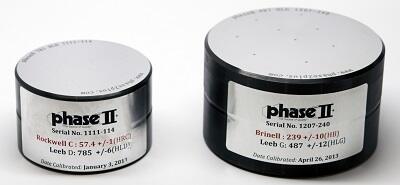 | Part No. | Description | Shape | Range | Comments |
| --- | --- | --- | --- | --- |
| PHT1300-01 | Leeb "D" Hardness Test Block | Round | 750-800(HRC 50's) | Phase II std. |
| PHT130001-cert | Leeb "D" Hardness Test Block | Round | 750-800(HRC 50's) | NIST Certified |
| PHT1300-02 | Leeb "D" Hardness Test Block | Round | 590-670(HRC40's) | Phase II std. |
| PHT130002-cert | Leeb "D" Hardness Test Block | Round | 590-670(HRC40's) | NIST Certified |
| PHT1300-03 | Leeb "D" Hardness Test Block | Round | 590-670(HRC40's) | Phase II std. |
| PHT130003-cert | Leeb "D" Hardness Test Block | Round | 490-570(HRC20's) | NIST Certified |
| PHT1100G-01 | Leeb "G" Hardness Test Block | Round | 480-670 | For use with "G" impact devices |
| PHT1100G-01C | Leeb "G" Hardness Test Block ASTM Certified to Brinell | Round | 480-670 (HB200's) | For use with "G" impact devices |
Brinell Hardness Test Blocks
| Part No. | Description | Shape | Range | Comments |
| --- | --- | --- | --- | --- |
| 900355-1000/150 | 3000kg | Round | 150-250 | Phase II std. (Steel) |
| 900355-1000/250 | 3000kg | Round | 250-500 | Phase II std. (Steel) |
| 900355-3010 | 3000kg | Rectangle | Low | Aluminum (USA) |
| 900355-3020 | 3000kg | Rectangle | High | Aluminum (USA) |
| 900355-3030 | 3000kg | Rectangle | 100-200HB | Steel (USA) |
| 900355-3040 | 3000kg | Rectangle | 250-350HB | Steel (USA) |
| 900355-3050 | 3000kg | Rectangle | 500+HB | Steel (USA) |